Regular price
$73.00 CAD
Sale price
$63.00 CAD
Unit price
per
Sale
Sold out
Bundle up and save. Everything you need to enhance and beautify your high, at a discounted price. The Flower Stampede Deluxe Sesh Set features our high gloss Rolling Tray and heavy-duty 4-Layer Cannabis Grinder in your choice of matching - but not matchy-matchy- Signature Floral Pattern. plus the cult fave Magnetic Spoon Pipe.
It's the perfect way to start enjoying a stylish cannabis experience. Makes a great gift!
Your Flower Stampede Deluxe Sesh Set includes:

Rolling Tray

You'll be rolling in style with the Flower Stampede Rolling Tray. Trays keep your stash in place, and provide a solid surface for rolling joints. Plus there's no need to hide this beauty when not in use! Stunning Signature Floral Pattern design in pink with full colour logo. Glossy finish makes rolling easy and enjoyable. 
Features include:
Signature Floral Pattern in pink on a glossy white background, with 4-colour logo and pink rim
Food grade tinplate

High edges with rounded corners stops weed from spilling out or getting stuck in the corners 

Size: 11 x 7 x 1 inch (180 x 140 x 15 mm)
4-Layer Cannabis Grinder
A beautiful way to get the best smoke! Using a weed grinder maintains the quality of your flower and ensures your cannabis burns well. The super cute Flower Stampede 4-Layer Cannabis Grinder has powerful teeth to grind even the stickiest marijuana buds. And the bottom micro-screen, with included kief scraper, makes it easy to collect sweet, sweet kief.
Features include:
Artistically wrapped in the Signature Floral Pattern of your choice:
Pink and White with pink background, small white pattern and silver interior or Black and Pink with black background, large pink pattern and black interior

Diamond shaped, CNC-milled teeth

Heavy-duty aluminum body with magnetic closure


4 layers with 3 chambers

Stainless steel micro-screen for kief filtering; kief scraper included
Magnetic Spoon Pipe

Add some style to 4:20 with the sleek Flower Stampede Magnetic Spoon Pipe. Held in place by powerful magnets, this gorgeous weed and hash pipe is easy to use and maintain. No screens are required and cleaning is a breeze.
Features include:
Lightweight, unbreakable zinc alloy construction 

Exquisite iridescent, flame-proof finish stays cool to the touch

Magnetic lid with etched Flower Stampede logo secures your stash

No screens required; 200-micron filter gap eliminates clogging and screens

Comes apart for easy cleaning

Storage box included
Share
View full details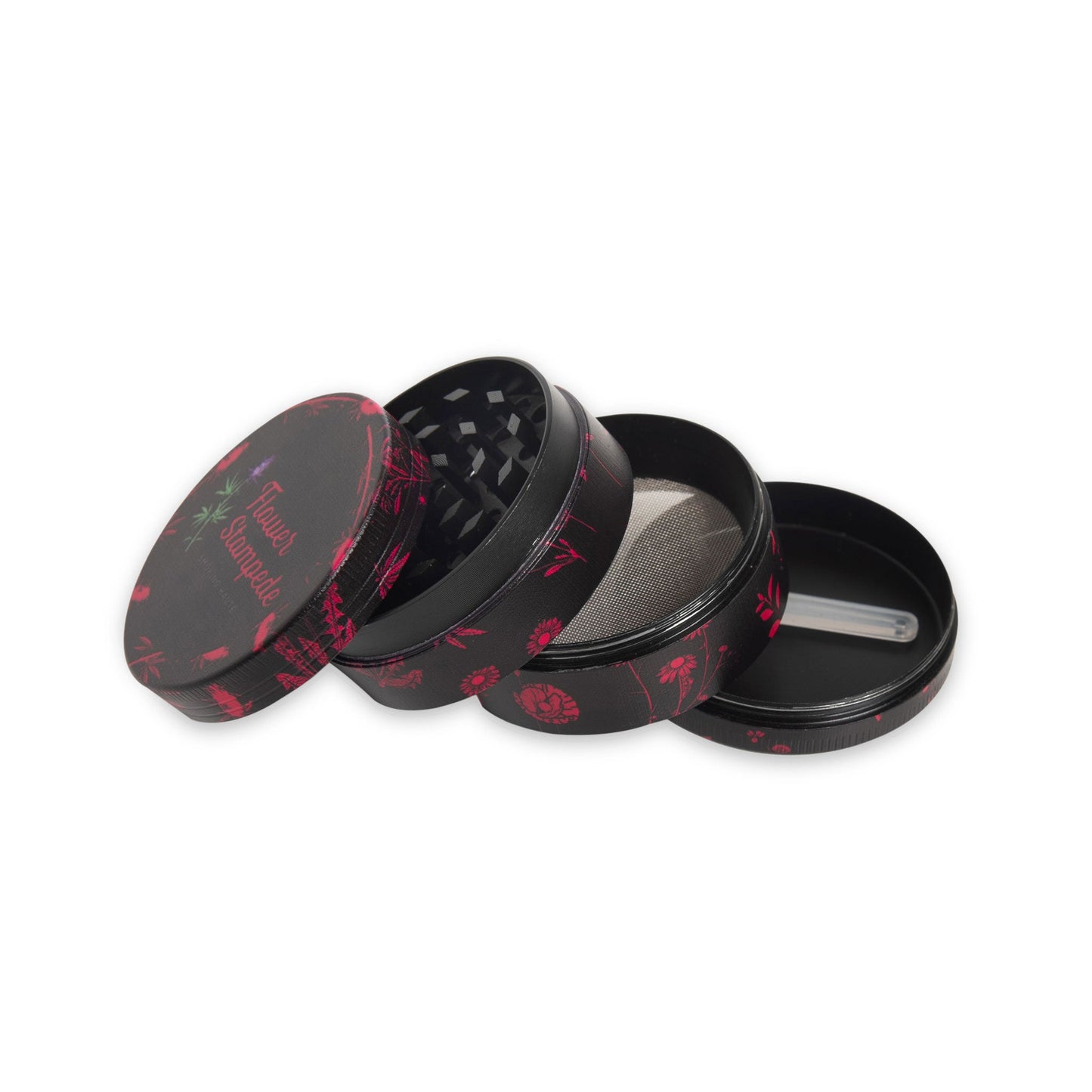 Amazing. The pipe is a perfect size and the tray is much larger than I expected!! Everything is well crafted.
Perfect Self-Care Birthday Present, Thank you!!
Love it! functional and small pipe, great tray & grinder
I love it.. so functional, nice and small and fits perfectly in my pocket.. - holds a surprising amount in the bowl.. love how easy it is to clean the pipe. - The grinder and tray are self explanatory.... the tray is a nice size, much larger than I expected, and well made. Not flimsy. The grinder, although small, I'll use it when I'm travelling I'm sure.. or gift it to someone.. I have larger ones so I didn't really get it for the grinder.